Blessings Made Real


Together with a few monks.
Khenpo Karma Namgyal
Blessings Made Real:
A Short Account of Karma Lekshey Ling Institute
in the Kathmandu Valley

Chöje Lama Phuntsok tells us:
"In 1988, I was doing my three-year retreat. When the very Venerable Third Jamgon Kongtrul Rinpoche came to visit the retreat center, he asked me: "What would you like to do after the retreat?' I replied: "I have two ideas. One is to establish a Buddhist elementary school, the other is to do a life-time retreat.' Rinpoche then told me: "Generally speaking, it would be better to do a life-time retreat, but during this generation it is actually more important to establish and enable the study of Buddhist texts. So, you should go ahead and build your school.' That's how in 1990 I began to organize the elementary school. However, financial hardships kept surging towards me like endless waves. I kept trying and striving for support and finally, in 2001, eleven years had passed by.
"Next, I started to develop higher Buddhist studies. No matter what kind of difficulties I met with mentally or materially, I just kept trying tirelessly to reach my goal."
Chöje Lama Phuntsok adds: "I was born in 1951, in a remote valley in the Himalaya region of Nepal. In this realm of snow, I spent my first 16 years like an ignorant being and never received any Buddhist or even conventional education. When the idea of becoming a monk first came up in my mind, my parents were not ready for that, because they only had one son, me, and a daughter, my sister. It was very difficult to get them to agree to my wish. My mother passed away when I was 16. Then something good happened when I was 17. My father took my sister and me on a pilgrimage trip through Nepal, and the Sixteenth Karmapa was there! It was such a great fortune! Although my father still didn't agree to my becoming a monk, I was determined to fulfil my wish and gain control over my own life.
"Becoming a monk doesn't mean being supported from then on. I had to support myself - there was no one there to help me. Beside the financial hardships, I could only go to the classes as an auditor. At that time I had to help with serving tea or working in the kitchen in order to get the chance to receive an education. When I reached the age of 40, I finally finished my retreat. On this path of practice, as an ordinary monk with a heartfelt wish to benefit all sentient beings, I finally, step by step, carved out this path of education for the Karma Lekshey Ling Institute.
"I've been trying my best to perform virtuous activities of body, speech, and mind. This is certainly my responsibility, and I hope to keep on doing it. As for Karma Lekshey Ling, it is definitely my duty to strive for it's future, and my aspiration will endure for as long as it can be.
Sarwa Mangalam!" Chöje Lama Phuntsok




And now, the Karma Lekshey Ling Academic Monastery, situated near the Great Stupa of Swayambunath, provides the sons of Himalayan Buddhist families the opportunity to enjoy a good education together with a monastic training. Everyone receives free lodging, free education, free meals, clothing, medical care, and all necessities they need in order to experience a worthy environment and live a meaningful life. Since the number of students at the Monastery increases every year and many have passed the exams successfully and received their degrees, the facilities are expanding, too. Furthermore, there are several long-term retreatants living on the monastic grounds.
Ever since the Shedra, i.e., the Institute for Higher Buddhist Studies was inaugurated in 2002,
students can study classic Buddhist texts on philosophy and logic; they can learn Tibetan, English, Chinese, and Nepalese in reading and writing quite satisfactorily, too, and acquire computer skills. All major scriptures of Buddhist philosophy are dealt with intensively during the course of the nine-year curriculum at the Shedra so that the monks are able to teach the Buddhadharma and to guide pupils and disciples efficiently. Monks, nuns, and Lamas cannot spread the Buddha's teachings alone. Everybody's assistance is needed in order to maintain the Buddhadharma in the world.
When I was a student, I had to make my own photocopies of sacred texts, and I could only afford to copy a few pages at a time. I didn't have enough money to buy books, and those textbooks are hard to get anyway. All students had to make photocopies of the few books available in the school library. At that time I vowed that I would publish those textbooks for future generations and with that aim in mind I went ahead and learned to use a computer. I had studied and taught some of these topics for many years, and on that basis I developed new ideas for editing projects.
Since my childhood I have been in the monastery where I was granted almost everything for free. As a token of appreciation and also seeing the importance of preserving the Karma Kagyu texts, I have devoted my time to the great project of preserving and making this work available to others. I have been working on Karma Kagyu texts in the Tibetan language for many years. My motivation to carry out this project is to serve those who are keen on learning the philosophy, arts, and sciences of the ancient Karma Kagyu Lineage, not to mention our shared interest in preserving the Kagyu Tradition.
This project will take much time, because of the vast context of the Lineage and seeing that I work alone. I have begun this project with the texts that are being practiced at Karma Lekshey Ling Institute. On this occasion, I want to extend my thanks to the students at Karma Lekshey Ling who help me type and proofread these texts. The topics of the publications are: 1) a collection of puja texts of recitations and chants in pecha format and in the Tibetan script, 2) a collection of study subjects, and 3) a collection of various texts and information regarding Dharma activities in both pecha and Western format. I'm also planning to offer the puja texts in other languages in the future. I hope that the free download project of these invaluable texts that are available in our website will benefit those who really need it, especially those who live far away from Tibetan Karma Kagyu Libraries.
As our community grows, it is furthermore necessary to build a clinic that enables us to treat minor ailments that occur as part of daily life as well as to provide treatment for illnesses that call for intensive care. Presently, all medical needs are seen to by two Acharyas, who have only received an informal, first aid training. Anyone who is seriously sick needs to travel to a clinic in Kathmandu, which takes several hours to reach. We do hope to be able to build a small hospital next to the Shedra in order to provide more efficient intensive care for our community members than is currently the case. The clinic will also be open to people living in neighbouring villages as well as to Lama Phuntsok's foreign students, many of whom stay for longer periods of time and sometimes get sick. Medical treatment will be free for residents of the Monastery, the faculty, and staff of Karma Lekshey Ling, and subsidized for local villagers.
In 2005 we added a guest house, called "Joyful Land" to our facilities to host Chöje Lama Phuntsok's growing number of both lay and monastic foreign students. We are also building a new retreat facility for monks who wish to do the traditional three-year retreat, a large library, a courtyard that is needed for the debates, and a primary school.
New young monks at Karma Lekshey Ling (2007).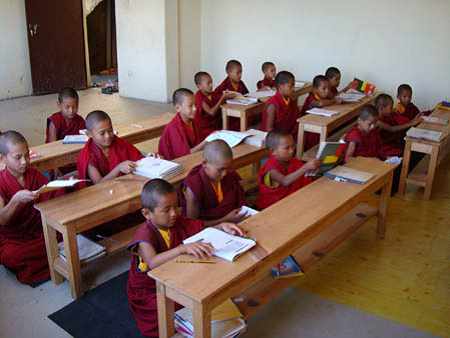 May all sentient beings have a life full of peace and happiness.

May virtue increase!
Arranged by Gaby Hollmann.